Often people learning VSA or using our own Volume Spread Analysis Software SMART ask questions about trades that didn't work out and why.  Obviously not everything is 100% but understanding an often overlooked and simple concept (Dead Zones) can have a dramatic effect on your Volume Spread Analysis and nine times out of ten is why a pattern (even very strong ones) fail.
Take a look at the following chart (used earlier as well to identify hidden selling and hidden buying) for some quick examples.  (If you use SMART simply scroll back through your charts and looks for these dead zones and how the smart signal behave in those areas)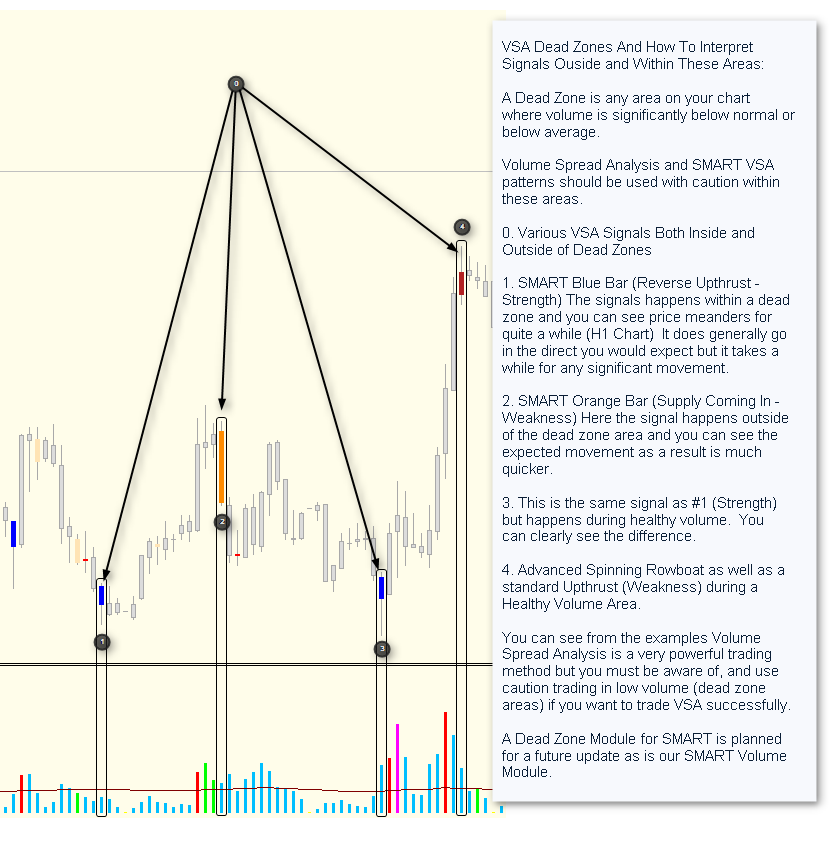 Text from screenshot:
VSA Dead Zones And How To Interpret Signals Ouside and Within These Areas:
A Dead Zone is any area on your chart where volume is significantly below normal or below average.
Volume Spread Analysis and SMART VSA patterns should be used with caution within these areas.
0. Various VSA Signals Both Inside and Outside of Dead Zones
1. SMART Blue Bar (Reverse Upthrust – Strength) The signals happens within a dead zone and you can see price meanders for quite a while (H1 Chart)  It does generally go in the direct you would expect but it takes a while for any significant movement.
2. SMART Orange Bar (Supply Coming In – Weakness) Here the signal happens outside of the dead zone area and you can see the expected movement as a result is much quicker.
3. This is the same signal as #1 (Strength) but happens during healthy volume.  You can clearly see the difference.
4. Advanced Spinning Rowboat as well as a standard Upthrust (Weakness) during a Healthy Volume Area.
You can see from the examples Volume Spread Analysis is a very powerful trading method but you must be aware of, and use caution trading in low volume (dead zone areas) if you want to trade VSA successfully.
A Dead Zone Module for SMART is planned for a future update as is our SMART Volume Module.
Please keep in mind SMART Trader itself is painting these bars which makes these patterns and setups much easier to spot and act on.
These patterns repeat themselves day in and day out and using SMART you can clearly see not only standard VSA signals but our advanced multibar SMART VSA patterns as well.
Trade setups are verified using our proprietary background scanners (included with the system).
For more information or if you have any questions about SMART Trader Volume Spread Analysis (VSA) Software please visit
Good luck trading and see you in the chat.