Hello all, sorry for the lack of posting.  I have been busy with some external (yet related) projects.
Today we have another great example of SMART VSA (Volume Spread Analysis) software in action on the E-mini.  The signals are noted using numbers within the chart and the comments are below the screenshot.  Trades noted (with number one being the exception) are what I call "tradeable" signals as per SMART, background, range etc. and taken in non dz's.
This chart really illustrates how easy trading with SMART can be…
Which reminds me, the project featuring my daughters is moving along very nicely.  Their account has just about doubled since starting (a few weeks ago) Not bad for a couple of kids.  Please note I have limited their trading to the EUR/USD and the ESM1 (E-mini June) only.
In regards to the screenshot, these examples are not cherry picked, the screenshots are real World examples selected from all of the charts I watch where the signal(s) and or concepts being discussed have appeared at the time this article was written.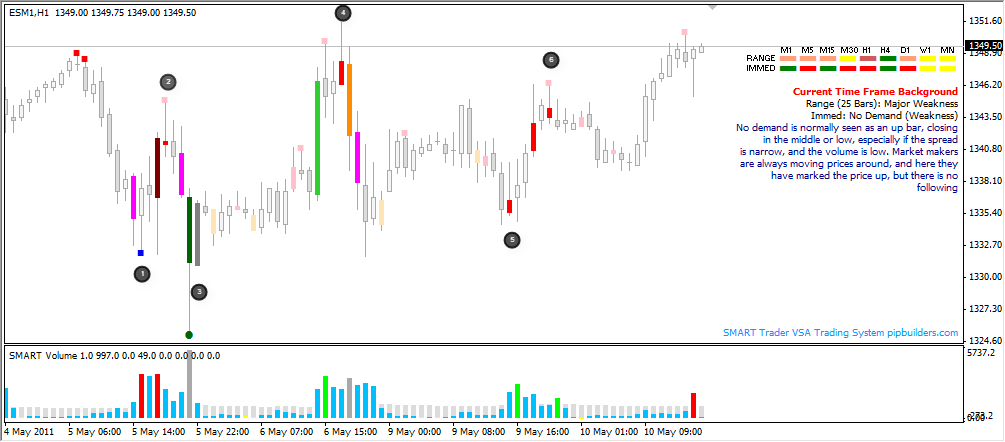 Strength coming in after a dz (SMART VSA Strength Indication – Blue Square Potential Strength)
Weakness and a SMART VSA Red Bar (Valid Upthrust – Weakness)
SMART RTHFC (SMART VSA Green Bar) followed by a Shakeout (SMART VSA Gray Bar – Strength)
SMART VSA Red Bar (Valid Upthrust at a top for range – Very Weak)
SMART VSA Hidden Buying Bar (Custom Color Coming Soon) Excellent Strength Signal.
Same as #2
There you have it. Pretty neat huh?.
Please keep in mind SMART Trader itself is painting these bars (and will only paint valid signals) which makes these patterns and setups much easier to spot and act on.  There is no guesswork.
These patterns repeat themselves day in and day out and using SMART you can clearly see not only standard VSA signals but our advanced multibar SMART VSA patterns as well.
Trade setups are verified using our proprietary background scanners (included with the system).
For more information or if you have any questions about SMART Trader Volume Spread Analysis (VSA) Software please visit
If you would like to receive real time trade alerts
click here
Good luck trading and see you in the chat.