Smart Trading using Smart Volume Analysis (VSA) Got You In For The Huge Move Up In The Euro (Over a week ago).
As many of you know I have been busy dealing with some personal issues recently (My Daughter has been in the hospital) which is why the groups and chats have been very slow but I wanted to address some recent comments in a lot of the trading groups I frequent and even a few comments privately from members within our own Smart Traders group (Our Group is free and it is private…  The link is below).
I saw a number of people complaining that they caught with their pants down on the recent EU rally (even some of our own users)…  They "thought" the EU would fall rather than simply following what Smart Volume Analysis was showing and go long, they went short and kept doing so even with all signs pointing to strength NOT weakness.
Take a look at the following chart.  You can clearly see why it's better to let the chart show you what's happening rather than trading off what you think will happen. Remember…  The market doesn't care what you "think" and it will remind you of that over and over unless you start using Smart Volume Analysis.
Keep in mind these examples are not cherry picked, the screenshots included in this article are real World examples selected from all of the charts I watch where the signal(s) and or concepts being discussed appeared at the time this article was written.
If you have any questions please refer to the links at the bottom of this article.
[screenshot]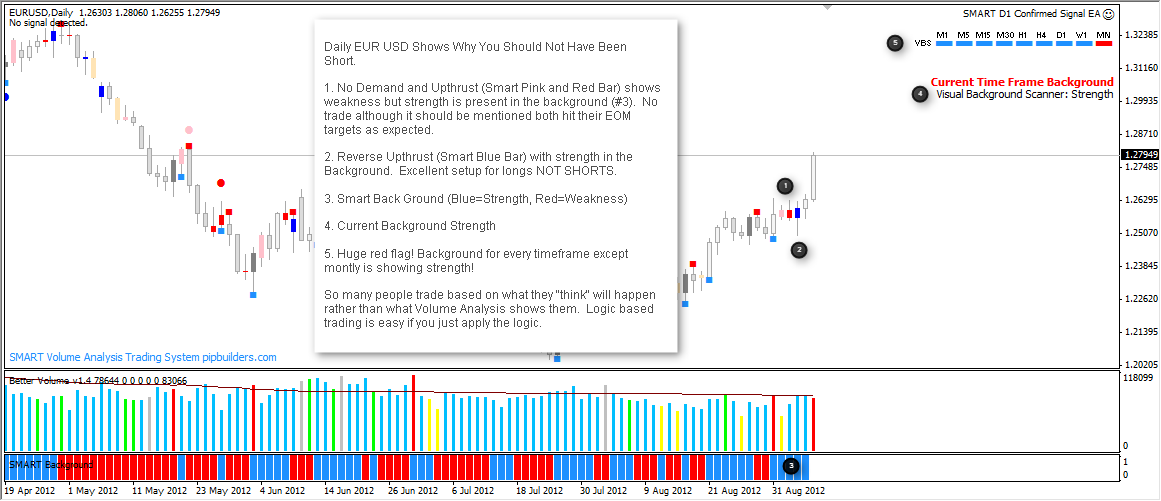 Each VSA signal and indication within our software has it's own color.  SMART Trader itself is painting these colors which makes these patterns and setups much easier to see and act on.  Using Smart VSA you can profit from these examples day in, and day out.  There is no guesswork.  If a signal is shown, it is valid.  It really is that simple.
Trade setups are verified using our Proprietary Smart Visual Background Scanner Module andProprietary Smart EOM Concept Module which are included with the system.
For more information or if you have any questions about SMART Volume Spread Analysis (VSA) and our Software please visit the following link
For information on our real time, volume based trading alerts, 
Click here
.
Good luck trading and see you in the chat (Links below).
Live Volume Spread Analysis (VSA) Trading Rooms, Chat, and Seminars:
Volume Spread Analysis (VSA) Social Networking Sites:
If you have any questions regarding Smart VSA or our software please visit our website (
http://www.smartvsa.com
) and submit a ticket using the support or contact link.
Thanks and see you in the chat.